Medicare Set-Asides
A self-insured municipality referred a case involving a 54-year old police officer who sustained catastrophic injuries attempting to take a suspect into custody.
The Case
The police officer received conservative treatment initially and eventually underwent multiple surgeries to aid his recovery. After his surgeries, complications arose, and he was living in constant pain. All treatments were part of the workers' compensation claim so the employer sought a Medicare Set-Aside allocation to settle the claim.
The Challenge
Often, the cost to fund future medical care (i.e. the MSA) in many workers' compensation cases becomes a disproportionately large part of the settlement negotiations. As was the case here, the projected cost of care for the claimant raised concerns for all parties. On the advice of his attorney, the claimant wanted to utilize a structured settlement to lower the cost of the MSA. When the process to do so began, most of the life companies offered no sub-standard age improvements despite the claimant's permanent impairments.
The Independent Life Difference
The structured settlement consultant took the medical records to Independent Life for underwriting and received approval to have them processed through their physician-led peer review program known as "Tier 2 Underwriting". By performing a comprehensive underwriting of the case, Independent Life was able to offer the pricing needed to make the structured settlement an attractive solution for both the claimant and employer.
The chart below shows a market survey to fund the CMS-approved MSA with a structured settlement: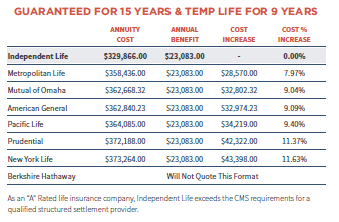 As the first life insurer solely focused on structured settlements, Independent Life provides competitive and innovative annuity products to offer the best possible outcomes to settling plaintiffs.  We do this with market-leading pricing, enhanced medical underwriting, and exceptional customer service.
Independent Life is rated "A" by Egan-Jones and "A-" by KBRA (Kroll Bond Rating Agency), both Nationally Recognized Statistical Rating Organizations (NRSROs) whose rating operations are overseen by the U.S. Securities and Exchange Commission (SEC) and relied upon by the National Association of Insurance Commissioners.