Medical Malpractice
A regional hospital was handling a challenging medical malpractice claim involving a child diagnosed with cerebral palsy, epilepsy and significant developmental delays. Due to the nature of the claim, the life expectancy, medical cost projections, and valuation ranges were each hotly contested items.
The Challenge
As a result of years of low interest rates and conservative medical underwriting, structured settlements had become less attractive to the hospital's legal and risk management teams as a settlement solution. With the mediation looming, the group of settlement, legal, and medical professionals began to finalize their strategy for resolving the claim. At this point, the teams elected not to include a structured settlement as part of their offer to settle the claim with the family.
The Independent Life Difference
However, upon hearing of Independent Life's physician-led Tier 2 medical underwriting process, the group engaged Independent Life through one of its appointed agencies and the structured settlement broker asked for the plaintiff's life expectancy to be assessed for a potential structured settlement. After receiving the results outlined below, the hospital introduced the concept of monthly payments during their mediation and it resonated with the family. By the end of the day, a settlement that was thought to be unlikely just weeks earlier became a reality.
The chart below shows a complete market survey for a $5,000 monthly benefit guaranteed for 30 years and life thereafter for the injured child: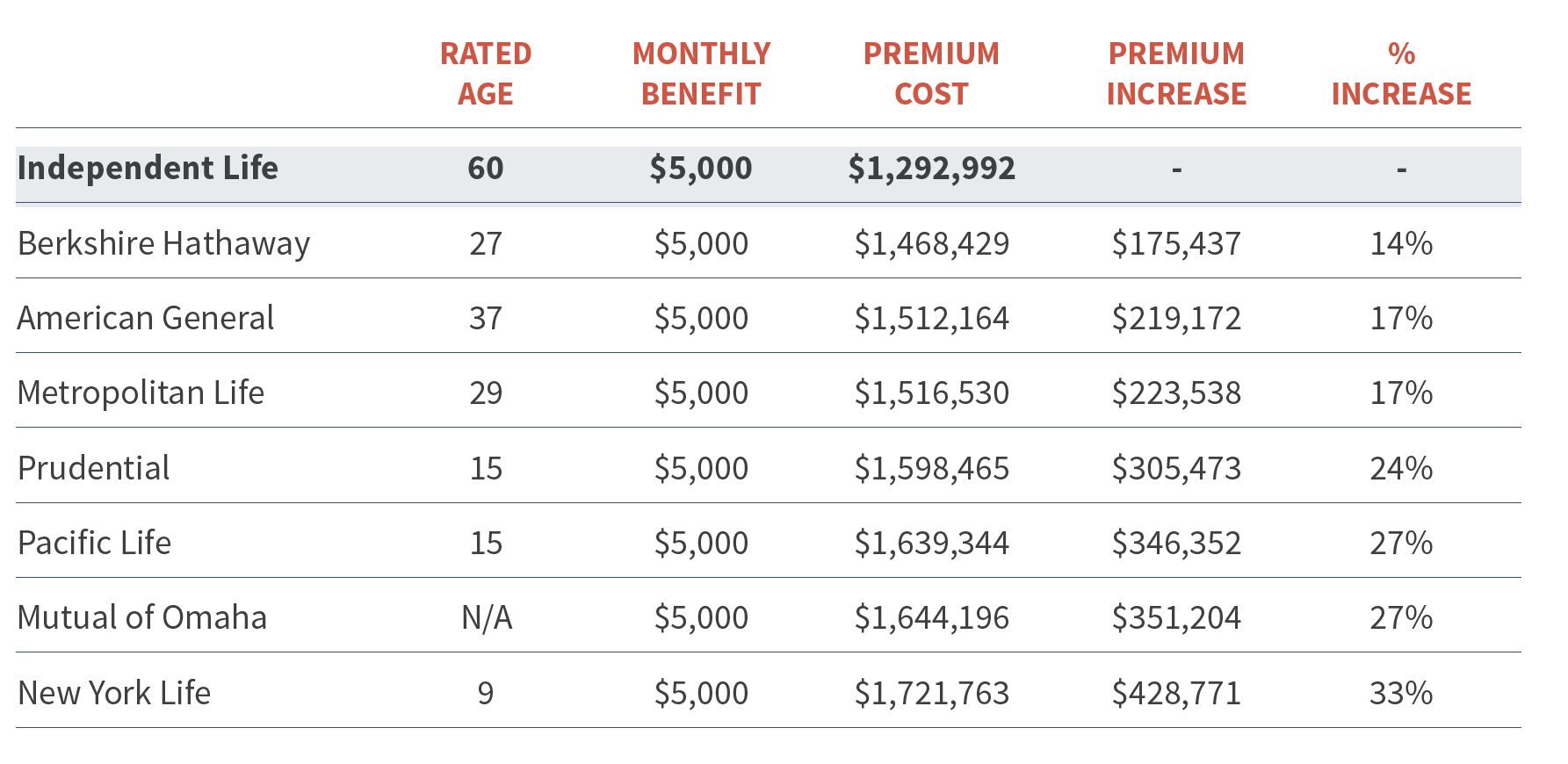 Independent Life's Tier 2 medical underwriting process is an in-depth and extensive medical evaluation of a severely injured claimant.
A typical experience is detailed below:
Medical doctors experienced in evaluating complex cases involving physical injuries perform the underwriting.
These experts consider all available relevant information, with no pre-set page limit, to discern the subtleties of impairments, and in the most impaired cases, provide a relative risk evaluation that often supports a much higher rated age.
Turnaround time is up to two weeks.
As the first life insurer solely focused on structured settlements, Independent Life provides competitive and innovative annuity products to offer the best possible outcomes to settling plaintiffs.  We do this with market-leading pricing, enhanced medical underwriting, and exceptional customer service.